Welcome To Jon Art Tattoo Studio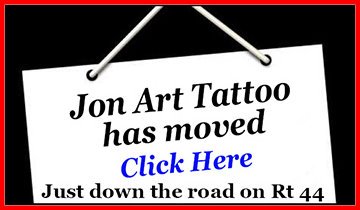 Jon Art Tattoo Studio, located in Canton, CT, specializes in custom tattoo designs, based on your input and ideas. We work together, to layout the tattoo design in our studio. You will see the design on paper first, so that you know you're getting the exact tattoo you want.
Jon Art Tattoo Studio is open 6 days a week, starting at 11:00 AM, Monday through Saturday (evening hours are available by appointment). We encourage you to stop by and check out the tattoo studio (located right on Rt 44 in Canton, CT), and talk with Jon about your ideas. It is recommended that you call ahead, to make sure Jon Art is in the tattoo studio, and is available to discuss your tattoo ideas.
Jon looks forward to working with you and creating a work of body art to last a lifetime.
-------------------------------------------------------------------
You must be 18 years of age or older, with positive identification (state or federally issued IDs only, e.g. Driver's License, Passport, Military ID, etc...)
-------------------------------------------------------------------
Rates: $100 per hour. $50 minimum.
< SINGLE USE NEEDLES >
< AUTOCLAVE STERILIZATION >
OPEN MONDAY - SATURDAY, FROM 11:00 AM THROUGH 6:00 PM
EVENING HOURS AVAILABLE BY APPOINTMENT
At Jon Art Tattoo, our Tattoo Studio is ready to serve the Farmington Valley (Avon, Canton, Simsbury, Farmington, New Hartford, Barkhamsted, and more) and tattoo enthusiasts from anywhere in North West Connecticut). We were the first Tattoo Studio to open in the Canton, CT area, and we take great pride in ensuring the body art we design and tattoo on our customers is unique, high quality, and something you will enjoy for a lifetime.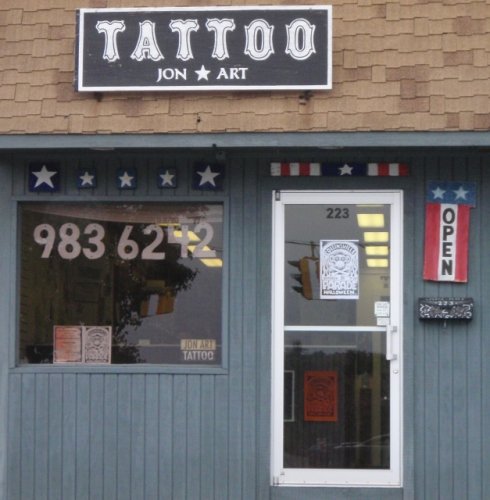 Copyright© 2006-2015 - JonArtTattoo.com